The Family Adventure Zone
Whistler has often been described as a playground for adults, in the summer time there's the bike park to ride, hiking trails to explore, patios to relax on and lakes to play on. Not to say that children and teenagers do not greatly enjoy these things but do you remember what it was like to go to an amusement park as a kid? Your eyes would be sparkling, your heart pumping, you'd by jumping with excitement and you were always ready to run. Here in Whistler our version of the amusement park is the Whistler Blackcomb Family Adventure Zone.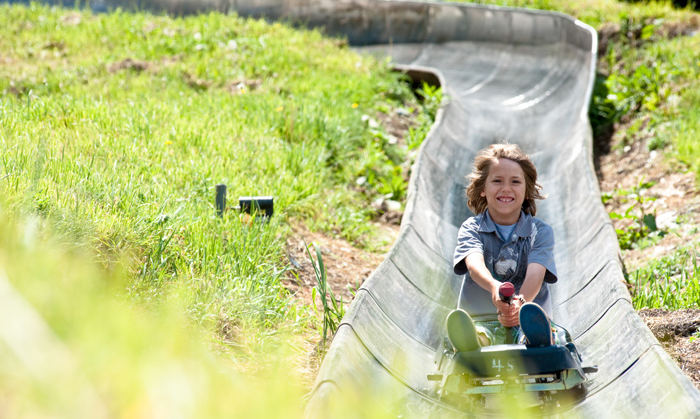 This Family Adventure Zone is location in Whistler's Upper Village and includes:
**Disclaimer: Rides & Activites may vary from year-to-year and weather conditions**
Westcoaster Slide - A 315m track that snakes its way down the mountain.
Marion and Friends Mini Golf - Clubs, balls and a challenging course for the whole gang to enjoy.
Amazing Maza - Race your friends and see who can get out of the giant maze with the fastest time.
Balloon Slide and Bouncy Castle - Too much fun! A bouncy, air inflated slide and castle.
Batter Up Batting Cages - Practice your batting skills boys and girls!
Freefall Airbag - Swing, or jump into the big airbag.
Glitter Tattoos - Need we say more!
Hot Wheelz Electric Go Cart - Race around a fun oval-shaped track.
Kiss the Sky Bungy Trampoline - Jump 25 feet in the air! All while doing flips and acrobatic maneuvers.
Robe Zone - Climb and swing through a maze of ropes suspended in mid-air.
Spider Web - For kids 4-13 years old, climb and crawl through A 25-foot high climbing web.
Spin Cycle Human Gyroscope - Probably the coolest and most exhilarating ride in the Adventure Zone. It's out of this world… NASA uses it to give astronauts the feeling of being in space!!
Plus on Sunday's and Wednesday's the Whistler Farmers' Market takes place in the Upper Village. Spend some time enjoying these rides and games then check out the Market for fresh organic produce from the Pemberton Valley, tasty baked goods and treats, local artist's works and great street entertainment.
There's still time to experience summer in Whistler!
Plan a trip your whole family will enjoy, book your summer accommodation with Lodging Ovations in Whistler Creekside now!
Contact us for more information.