Whistler Blackcomb's Fire & Ice Show Returns!
Ski season is finally here in Whistler! The mountains and the Village are buzzing with activity as skiers and snowboarders take advantage of the fantastic conditions on Whistler Blackcomb. There's no question what to do with your day while you're in Whistler, but what should you do after a long day on the mountain? There's definitely a few different options while you're here but an annual crowd-pleaser is the Fire & Ice Shows throughout the winter season.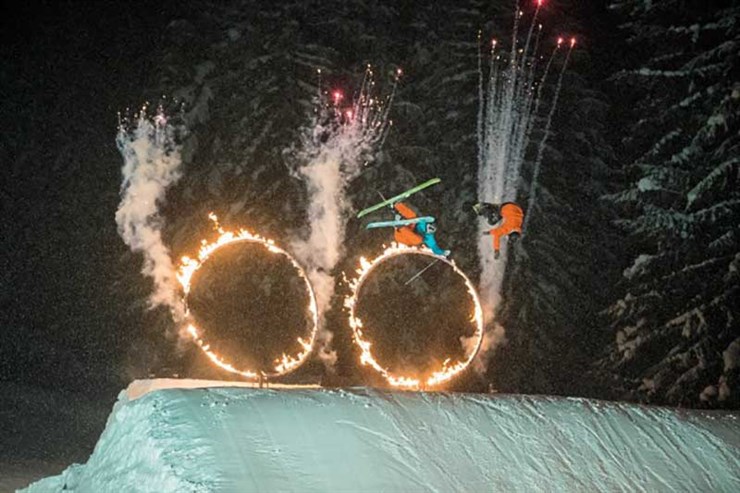 Whistler Blackcomb's Fire & Ice Show
Starting up again in December 17th, Whistler Blackcomb's Fire & Ice Show draws in large crowds, every Sunday night, to watch high flying action as riders jump and flip through rings of fire. Along with fire spinners, DJs, and fireworks, the Fire & Ice Show in Skier's Plaza is something you won't want to miss while you're here. It's there perfect way to spend a night after a long hard day of skiing. Dress warmly and get ready for an incredible night of free entertainment in Whistler Village.
Fire & Ice Show Dates:
6:30 PM | Sundays | December 17, 2017 - March 4, 2018
7:30 PM | Sundays | March 11 - 25, 2018
Afterburn Party
Every Sunday after the Fire & Ice Show, you can head over to the Garibaldi Lift Co. for the official after party – Afterburn. Adults can party it up with live music from whistler's legendary Hairfarmers and enjoy prize giveaways. The Afterburn Party is a great way to end a weekend of shredding up the slopes.
New Year's Eve Fireworks
Don't miss out on the special New Year's Eve Fire & Ice Show this December 31st, 2017! Watch a dazzling fireworks display light up the side of Whistler Mountain from Skier's Plaza. Usher in a great New Year with a wonderful light show at midnight.
Whistler Accommodations
Are you looking for somewhere to stay in Whistler this winter? Legends is located right in the heart of Whistler's Creekside and offers you unparalleled access to Whistler Blackcomb with a gondola only minutes away from your hotel room. Take a look at our amazing deals and packages to get you and your family the best ski trip or winter vacation ever!