Cheakamus Lake - All You Need to Know
Cheakamus Lake in Garibaldi Provincial Park is a popular tourist attraction in the Whistler area. People come to hike the amazing surrounding trails and see the stunning scenery.
Garibaldi Provincial Park
Geology and Lake
Garibaldi Provincial Park lies in between Squamish and Whistler. It was established in 1927 and is just under 2,000 square kilometres in size. The park is part of the Garibaldi Volcanic Belt. The regions volcanic activity creates stunning geological forms and volcanic features.
Cheakamus Lake is a glacial lake, which gives it its vibrant colouring and unusually cold temperatures.
Flora and Fauna
Cheakamus Lake is in an area of coastal temperate rainforest. The area has lots of western-hemlocks, Douglas fir, and western red cedar. The trails around Cheakamus Lake take you through alpine meadows in the surrounding mountains.
Thanks to its remote location, Cheakamus Lake is home for many animals, particularly large mammals and birds. Bald and golden eagles are seen in the skies of Cheakamus Lake. While black bears, mountain goats, and deer also call the area home.
Rules and Cost
Dayhiking and parking are both free. If you're planning to camp overnight then you must pay before you go. Reservations are required for every camper and must be booked for, and paid for, online before you go. There is no facility to pay cash on arrival. The fees then go into maintaining the trails and park.
Dogs are not allowed on the trails at Cheakamus Lake, nor anywhere else in Garibaldi Provincial Park. There are also no garbage services in the park, so whatever you pack in, you must pack out. Toilets are present in the form of pit toilets.
Location and Access
How to Get There
Drive south from Whistler Village and through Creekside for 15km. You'll come to a set of traffic lights at Function Junction and Cheakamus Crossing. Turn left at the lights onto Cheakamus Lake Road. Keep left on Cheakamus Lake Road as the road splits. The road is unpaved and generally has a lot of pot-holes. Continue for 7km until you reach the trailhead at the end of the road.
The nearest bus stop is located in Cheakamus Crossing which is 7km away from the trailhead. Cheakamus Crossing can also be reached by cycling on the Valley Trail and then continuing up Cheakamus Lake Road.
Parking and Logistics
At the end of Cheakamus Lake Road, there is a parking lot. Parking is free and the parking lot has a large map of the trailhead, toilets, and some picnic tables.
Activities
The area of Cheakamus Lake has plenty of activities available throughout the year.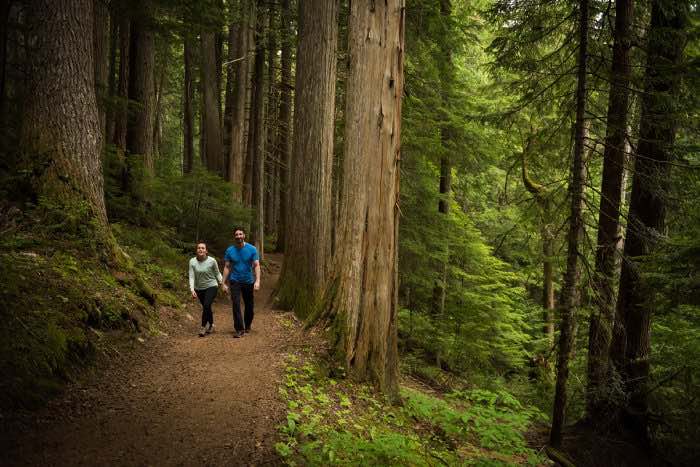 Hiking and surrounding trails
Hiking to Cheakamus Lake is the most popular activity in the area. The hike to the lake and back is approximately 15km long and takes 4-6 hours depending on your level of fitness. It is one of the more accessible hikes in Garibaldi Provincial Park and the trail rarely gets steep. In fact, over the entire trail, you won't even gain 100 meters of elevation.
You'll reach the first campsite and views of the lake around the 3km marker, with further campsites being found at the 7km marker. When the trails are open for hiking depends on the amount of snow. Generally speaking, it is best to hike from May to November.
Lake Activities
After a hike in the summer sun, you'll be very glad to reach Cheakamus Lake. It is a glacial lake, so you'll cool off quickly after jumping in. Because of the temperature of the water, you're more likely to see people spend more time on the water, rather than in it. Paddleboarding, canoeing, and kayaking are popular activities here.
You might also see some people fishing along the water's edge. Trout are the most commonly caught fish in the lake. If you're fishing at Cheakamus Lake, you can keep what you catch, but if you venture to Cheakamus River, you must release what you catch.
Camping
Camping is one of those few experiences that really allow you to reconnect with nature. Eating with friends around a campfire and sleeping under the stars is a rare treat in this modern world. Luckily, Cheakamus Lake has three campgrounds. Make sure you book in advance as you cannot pay on arrival!
Cheakamus Lake Campground
This is the campground closest to the parking lot. It's also the busiest campground. It's 3km from the parking lot and has 10 tent sites, food hanging facilities and pit toilets. It takes roughly 45 minutes to 1 hour to hike this easy trail.
Singing Creek Campground
A further 4km down the trail, at kilometre marker 7 you'll find Singing Creek campground. It has the same facilities as Cheakamus Lake campground, but only 7 tent sites.
Helm Creek Campground
8.5km from the parking lot is Helm Creek campground, the largest campground on the trail. This campground has 30 tent sites, as well as pit toilets and food hanging facilities.