Whistler Family Adventure Zone
The Family Adventure Zone is one of Whistler's most popular summer attractions for young families. You'll find it in Upper Village at the base of Blackcomb Gondola. Upper Village is buzzing with activity during the summer months, there's a number of cute bars, cafes, and restaurants, as well as a farmer's market. Although all the kids will care about is the Family Adventure Zone and all the attractions!
**Disclaimer: Rides & Activites may vary from year-to-year and weather conditions**
Attractions and Rides
There are 12 attractions and rides in total, some of which are weather dependent. Here we'll take a look at the most popular attractions.
Mario and Friends Mini Golf
Mini Golf is a summer favorite for so many people! But have you ever played mini golf at the base of a stunning mountain? This course is 18 holes long and sponsored by Nintendo, so expect to see plenty of your favorite Nintendo characters! This course is suitable for all ages and it's a fantastic activity that all the family can join in on.
View this post on Instagram
Water Rollerz
Water Rollerz is one of the more unique attractions at Family Adventure Zone. Water Rollerz consists of large plastic balls that you climb into and the balls float in a pool of water. You're now able to walk and run on water! Because the balls are so big and bouncy, it doesn't hurt at all if you bump into other people!
Mighty Jump Airbag
The Mighty Jump Airbag is one of our favorite attractions! It's a simple concept, but one that is so much fun! Kids can either swing or jump from the platform and land safely on the large airbag below. Parents, get your cameras ready!
Hot Wheelz Electric Go-Carts
This Go-Cart course is one for the younger kids. The round course is protected on the edges by a large inflatable barrier and the go-carts safely zip around on the inside. The go-carts are electric, so there's no smelly fumes and your kids will love the stylish Hot Wheelz go-carts.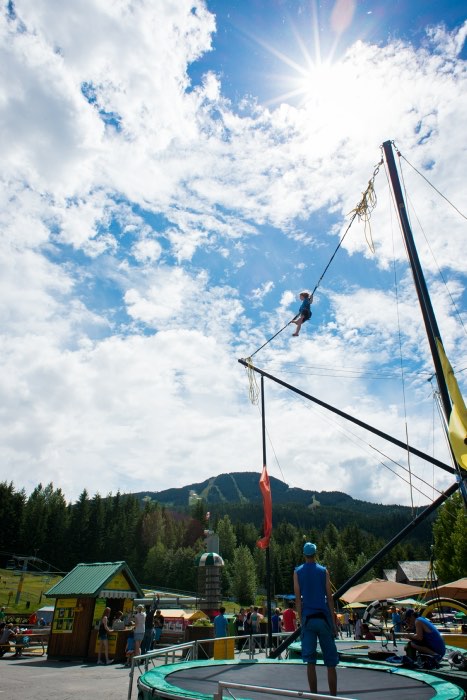 Kiss the Sky Bungee Trampolines
Your kids will great enjoyment from bouncing sky high with Kiss the Sky Bungee Trampolines! This is a collection of trampolines is different from any other that you've ever been on. These trampolines have bungee cord supports! You strap into the bungee system and now you can bounce even higher than ever before!
Rope Zone
The Rope Zone is brilliant for all those active kids out there! The Rope Zone is made up of climbable rope walls, suspended steps, and hanging bridges. Kids are connected to a harness and are able to climb as high and as far as they can. This one is sure to tire them out!
Westcoaster Slide
The Westcoaster Slide is the most adrenaline-fueled activity in the Family Adventure Zone. The Westcoast Slide is a large metal slide that winds its way down the side of Blackcomb Mountain. The rider sits in a sled with a brake and you coast down the mountain. The sled is big enough for two, so it's a great activity for an adult and a child to do together!
Spin Cycle Human Gyroscope
The Spin Cycle Human Gyroscope is one of the more unique attractions at the Family Adventure Zone. This is just like what you see in the movies when astronauts are training for space. You strap into the gyroscope and it spins you until you feel like an astronaut. It's one for the daredevil kids!
So when you're planning your next trip to see us in Whistler, make sure you plan a visit to the Family Adventure Zone!